Rebranding a business
Keisha Jo Lawler is the founder of curly hair brand Trepadora. In 2021 we worked together to relaunch the brand with an all-new look and feel, we discuss the rebranding process and what that meant for the business.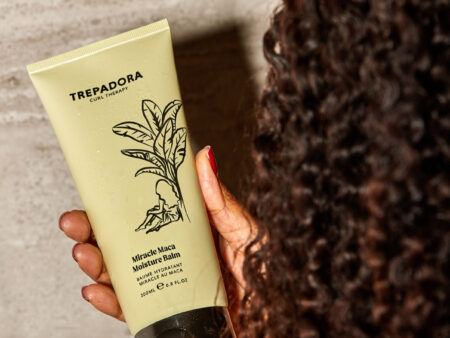 Hi Keisha, can you tell us a little bit about your background, why you founded Trepadora and what the business is about?
I launched my first business in 2009 which was a dedicated website about all things curl related as I found that when I chose to stop straightening my hair and embrace the curl there were zero resources for anyone with naturally curly hair in the U.K. in terms of education, advice and products specifically for curly hair. It was hugely successful and after many years of helping thousands of women and listening to their stories, I decided the time was right to create my own range to distil all of my knowledge about ingredients to deliver a system of products that looked at curls from a skincare point of view that felt luxurious to use and helped my girls to experience more curls and less frizz for multiple days after wash day.
We've just worked together on a relaunch of the Trepadora brand, what were the motivations behind the rebrand?
When I first launched Trepadora I did not have a massive budget and quite rightly my entire focus was on creating formulations to deliver high-performance with optimum botanical ingredients. The packaging was effective but clinical and I was never quite satisfied with it. I knew I could do better and as scary as it was to go through a major rebrand, lockdown helped cement that decision in my mind to just go for it.
Having founded the brand in 2015 you have built up a loyal customer base over the years. Prior to the rebrand, did you have any hesitations about changing the look and feel and whether this would impact existing customers?
You always want to ensure you never disappoint your customer base but I have always taken pride in the fact that I am also the customer and my instincts have never failed me in making choices that were right for her. I feel very connected to my customer base. I read every review and have great conversations with my customers in-store as well. These helped guide me and gave me the confidence to forge ahead.
How did you find the process of finding a designer? Did you have any particular expectations or requirements you felt were important to your business?
I took a lot more care this time around as I knew in my heart that failure was not an option and that I wanted to work with a female designer. Of course, you always want to work with someone with experience but for me, a person's energy is equally important as it is such a deeply personal journey to go on together.

What part of the rebranding process did you find the most challenging? And what part has been the most rewarding?
The most challenging was trying to get my vision on paper. Giving a designer a brief will only take you so far if you have a clear idea of exactly what you want. Naturally after going through many failed concepts seeing your idea brought to life is the most amazing experience.
Having relaunched the Trepadora brand in February with a new website and packaging – how was the new look received and what has this meant for the business now and moving forward?
Our new packaging has been overwhelmingly well received. Our packaging is now 100% recyclable and made with PCR (post-consumer recycled) material. This has resonated deeply with our customer base as well as just how beautiful our new packaging is and how well it conveys the story of Trepadora. This makes me feel incredibly proud of where my brand sits now.
And lastly, do you have any advice for other businesses that may be considering a rebrand?
If it's something that you know deep down in your heart that is critical for your brand to do, push the fear aside and just do it. Short-term pain for long-term gains is a very real thing.