Running a business remotely
Emily Horrigan launched her British hair oil brand Forest & Shore from Bali. From utilising e-commerce platforms to employing fulfilment companies and hiring virtual assistants. We discuss the tools that streamline running an online business.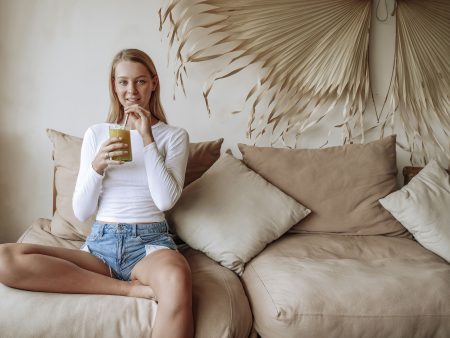 Hi Emily, we'd love to hear about your journey and how/why you started Forest & Shore…
I started working on weekends in a hair salon which led me to an apprenticeship in hairdressing. After qualifying as a hairstylist I started developing allergies to almost everything that is used in the salon. I knew I couldn't continue with the career and reluctantly had to finish this dream. My partner had already started an online business and encouraged me to do the same. I started my first brand selling knee supports and back braces, although it was a great learning experience it didn't really excite me or align with my own values. This is when Forest & Shore was built. Having allergies myself I had to check labels when shopping, I noticed many brands use the word 'natural' for marketing but when I looked closer they weren't at all. I wanted to create a brand that was completely transparent with the ingredients used.
You live and work in beautiful Bali. We'd love to know more about your island lifestyle, how this relocation came about, and what that means for business and life.
Yes, I do! It's definitely a very different lifestyle here. My partner and I were travelling a lot once we were both working online and we always came back to Bali in between trips. We were looking for a longer-term rental so we had a base on this side of the world but then one thing led to another and we bought a place! It wasn't really planned, it just kind of happened. Bali really has it all, the weather is beautiful and so I spend a lot of time at the beach with my dogs or surfing with friends. The food in Bali is amazing and so affordable, so we tend to eat out a lot of the time. However, I love cooking so I still get creative in the kitchen. It doesn't really affect us business-wise, we start our work in the afternoon so it works with UK hours, sometimes samples take a while to reach us but apart from that, it's the same!
How have your surroundings influenced the Forest & Shore brand?
When I first visited Bali I was so stunned by the amount of plastic used. They even cling film wrap all the vegetables in the supermarkets to then put them in a plastic bag, it's madness. I could see how wasteful this was but it wasn't until I lived here through the rainy season that I saw the effects of their plastic consumption. Rivers dry up in the summer and are used as a dumping ground for all the plastic. So when the wet season hits, all that plastic is washed straight into the sea. It is so sad to witness. Making Forest & Shore as eco-friendly as possible was at the top of my list, minimising plastic usage no matter how small is important to me.
Talk us through your average workday…
I begin work in the afternoon around 1-2 pm and enjoy a slow morning, normally going for a coffee, a surf, or the gym. I start by writing a list for the day to get it all in front of me, then I clear my email inbox, reply to any questions on slack from my VA and then I work through my list of to-dos.
I work until about 6 pm when I then go out for food or cook something. If I haven't finished up work before dinner I will hop on my computer before closing it for the evening. Sometimes I end up working later but most of the time I am finished before dinner.
Have there been any hurdles in finding and connecting with suppliers and managing that process from the other side of the world?
Things sometimes take longer, for example, if a supplier doesn't reply until 3 pm UK time I'm already asleep so I won't see it until the following day. Whereas in the UK I could reply instantly. So an email thread that would normally take 5 minutes can turn into several days of going back and forth, so I have learned that picking up the phone is a much quicker way of getting answers.
We collaborated on the visual identity to design a brand that reflects the organic nature and botanical ingredients of your products. Along with your eco credentials and being fully recyclable – how important has the brand's visual identity been to the business?
It was very important that Forest & Shore remained attractive to everyone, not just someone looking for a natural or organic product. Being an Amazon-based brand we needed to stand out from large companies and not look like everyone else, investing in beautiful branding has been great for us, and the amount of positive feedback I get on the packaging is amazing. If we looked like every other commercial brand I think we would struggle to be noticed on Amazon's platform.
In recent years, digital tools have played a huge role in how we shop and connect with brands. How have you found navigating online platforms and social media?
Social media is definitely something I need to work more on. We know Amazon's platform and this is where I dedicate my time. Instagram is a place we use to keep our followers updated on Forest & Shore. However, we are wanting to bring more sales to our website and for me, I feel the best way to do this is through social media. We do make organic sales via Instagram already and as I said, it isn't something I'm focusing on, so I would think with some expertise I think it could be really powerful.
Could you tell us a little more about the pros and cons of selling via Amazon?
I think Amazon is an amazing platform. If you are able to get onto page one then you are in front of thousands of people looking for a product like what you have to offer, this amount of traffic is difficult to do on your website. However, the cons are that you constantly have to keep up with Amazon's algorithms and rules on selling on their platform.
What has it been like to run a business remotely and what's the biggest challenge you've faced?
Staying focused is something I need to work harder at. Everyone in Bali has so much time, meaning that there are always fun things to do! It's easy to take your eye off the ball and an Amazon company needs constant attention. Things can fall apart quickly if I haven't been focusing on Forest & Shore so making sure I don't get distracted is really important to the company. But on the whole, I couldn't say there are really any challenges of working remotely, I love the freedom and any glitches I face are easily resolved as more and more businesses are moving online now anyways!
We'd love to know what 3 tips you'd share with anyone looking to build a successful e-commerce brand…
Spend money on photography. Making sure you have a high-quality image of your product makes a huge difference. People aren't able to pick up your product so you have to show it off the best you can with images. I have to admit I'm not a massive lover of infographics but my data shows that they work so effectively. Having the product photo and information all in one place makes it a quick way for people to read why they should buy your product without having to scroll through a load of text.

Don't cut corners… If you're planning to sell on Amazon, make sure your product has all the certificates it needs before you list it. Also, take time to register trademarks you may want. If you have all the right paperwork you can be protected by Amazon's Transparency Programme this makes your business stronger and stops people from being able to sell fake versions of your product on Amazon (which is more common than you think).

One thing I love about Amazon is that they send out all our orders for us. If you're wanting to build a brand through your website I would recommend finding a fulfilment company to ship your orders out for you. Physically posting your orders is so time-consuming I personally think you're better off spending that time finding your next product to launch. It also means you can work remotely, you don't have to worry you mixed up the address labels and you don't have to deal with returns.