Advice for young designers
Our founder Claire was invited to talk at the Ladies, Wine & Design event in London on the theme of 'Going Solo'. We get a lot of emails from students and junior designers so thought we'd share some experiences of what it's like to go self-employed.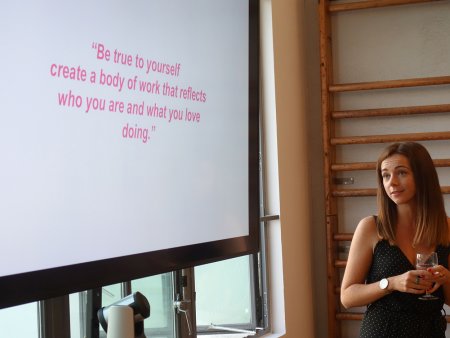 Ladies, Wine & Design was started by Jessica Walsh after this happened and she realised that sometimes women can be competitive or unsupportive of one another. Only a small percentage of creative directors are women, and LW&D wants to help change this through mentorship circles, portfolio reviews, talks, and creative meet-ups. In less than two years of launching, they've spread to chapters in over 180 cities all over the world so I was overwhelmed when the London collective got in touch and asked me to speak at their recent event.
The event theme was 'Going solo' and I was one of five speakers sharing my self-employment story, along with the talented Sarah Boris, Helen Friel, Mavis and Haidee Drew.
My journey is a little different to most, as in it certainly wasn't planned. I accidentally fell into self-employment after a mix-up in job offers back in 2012 which left me looking for freelance work. In honesty, I'd never really considered it before, I hadn't believed it was something I could do, and I certainly didn't feel experienced enough to do it! But just a couple of months in and I was loving my newfound freedom… fast forward a decade and I wouldn't change it for the world.
I graduated in 2008 and got my first job in a small agency, which meant I learnt many business skills without even realising. Everything from quoting, invoicing, proposals and pitches… that experience was essential to me when starting out on my own, albeit I hadn't realised it at the time. I spent 4 years in the agency and any spare evenings and weekends went into personal work, mostly illustration (which is something I didn't have the opportunity to do in my graphic design role) — I curated exhibitions, featured in magazines and hosted workshops. I just loved to draw.
When I went into self-employment it was only then I appreciated what I'd learnt in the agency world and truly began to understand the power of networks. I'd never considered that my involvement in these events and exhibitions was building up my 'network' — and in honesty, I'd only ever done those things for my own enjoyment and because I genuinely enjoyed the social side. But, all this 'networking' came in super handy when suddenly I found myself looking for work. To begin, I sent out emails to everybody I'd met over the years to let them know I was taking on freelance projects and slowly but surely I began to have a steady stream of work.
I did a small stint of freelancing in agencies but quickly decided I much preferred working on my own terms and directly with my clients I could choose myself.
Cashflow is one of the biggest challenges when setting up a business and in my first two years, the main goal was to stay afloat. I took on whatever project came in (within reason)… nothing was too big or too small. My unplanned route into self-employment meant I didn't have an endless stash of funds to cover my bills, so if I could offer any advice to anybody thinking of going alone — it's to have some backup savings to relieve some of that financial pressure.
As all young designers do, I often scrolled the blogs and wondered how all these other independent designers got these 'dream projects'. Not to be ungrateful for the opportunities that got me to where I am today, but I think it's fair to say my work was heavily influenced by others and lacked a sense of consistency in approach. Sure, as a designer I need to be adaptable, but I think a lot of the issue was confusion in my own identity. What did I feel most passionate about… what were my values… what did I love to do the most?
Illustration. I love illustration. Yet as a graphic designer, I'd always seen these as two separate entities. I'd read a magazine article about only showing the work you want to do and how your portfolio should be a representation of you and what you love most. So I began to add some of these personal projects I'd been doing in my spare time onto my website and omitted all the work that I thought I should have been doing as a designer (but didn't really connect with).
I remember my first packaging project was in 2017 for a chocolate brand… a dream project! The medium was the perfect opportunity (and challenge) to utilise both my design and illustration skills. Once that project was launched on my site it began to attract more work like it and the rest is history. Although it wasn't that easy… this is of course the shortened version.
It took me 7 years after graduating to find the confidence to do the sort of work I really wanted to do. I spent a lot of time doing what I thought I should be doing, following other designers and industry trends. But as soon as I began following my own heart it opened up so many doors and connected me to like-minded people who share my passions and values — which is something that's really important to me. 
As my personal brand has grown I've gained more experience and clarity with my work. I like to think folk get a good sense of who I am by looking at the projects I've done and clients I've worked with. I thrive off the passion and love of each business owner I collaborate with — and am thankful to be in a position to now choose who I work with. I see the design process as a partnership, an opportunity to push and learn from each other.
Over the past 7 years, I've proudly partnered with vegan ciders, organic teas, natural skincare and ethical fashion brands. If I could rewind 10 years and tell myself one thing it'd be to 'be true to yourself'…
Everybody has their own path, we learn from mistakes and build confidence through experience. Going solo isn't an easy option, it takes blood sweat and tears but the rewards are priceless. 
The event was a fantastic night to meet fellow lady designers and share our experiences. I'm looking forward to the next one!